Cherished Memories...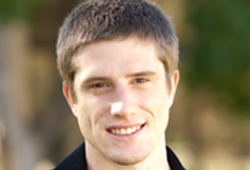 BY BRENNAN HAWKINS '11

Vanguard is in my blood, or at least that's what I've always been told. I can remember shooting hoops in "The Pit" when I wasn't big enough to hold a basketball and playing in the Heath courtyard before there was a Heath building. I would think to myself, ? it would be the coolest thing in the world to be a Vanguard University student. And you know what? I still think it is.

Both of my parents, Randy '79 and Charlotte (Rosser '83) Hawkins, were students here at Vanguard. Growing up I heard stories about their experiences, mainly the one about how they met and eventually got married. My grandparents both helped build Needham Chapel and had a strong connection to the Vanguard community. My dad worked here as a basketball coach for 10 years and as the Financial Aid director for 11 years. All these family connections gave me the perfect chance to see all that Vanguard really has to offer.

When my parents first talked with me about college options, one thing they said about Vanguard really stood out. While Vanguard has great academics and professors, it also has a community that is unique and special. They said while at Vanguard, I would get the opportunity to get an education with a Christian perspective. A Vanguard University education would provide me more than information; Vanguard would teach me to think. They told me about the ways the Vanguard community helped to cultivate them as they grew in their knowledge and in their faith, which is exactly what I wanted. As someone who takes great pride in learning and challenging myself, Vanguard was easily the best fit for me.

From academics to athletics to the social atmosphere, my time here has been fantastic. I followed in my dad's footsteps and played on the basketball team, received instruction from professors who taught my mom and got involved in the community in ways I never would have imagined.

I can remember my parents saying that their time at Vanguard produced some of their most cherished memories, and I can honestly say that the same is true for me. I am so happy that Vanguard is in my blood, because in the same way that Vanguard helped to mold my parents, it has helped me form who I am as a person today.