What a Difference Vanguard Can Make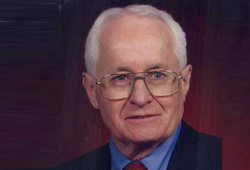 It was over half a century ago (1953) that I chose to attend Vanguard University (known then as Southern California Bible College, SCBC). I had completed one and a half years of Bible School at South Central Bible College in Hot Springs, AR. Since it was merging with Central Bible College in Springfield, MO, I had to choose another school. Through intensive prayer, God made it very clear that His choice for me was Vanguard. WOW!! What a difference that made in my life and ministry for Him:

I met a lovely, delightful young lady (Jeannette Ferguson from Pueblo, Colorado). We were married as soon as the school rules permitted. We shared our lives for 51 plus years, until she lost her valiant fight against cancer.

With a Social Science major, I received a solid college education, enabling me to enter Seminary and top-rated universities for graduate work. I was able to play baseball for two years and football for one year – not important, but fun!!

Beloved Professor, Dr. Ward Willams introduced me to the dynamic field of Psychology. It still fascinates and excites me these many years later. My interest in psychology, counseling, marriage and family has expanded as the field continues to expand. The potential for increasing human understanding is limited only by our imaginations!

Since leaving Vanguard and completing Seminary, I have been privileged to spend 31 years as a Chaplain in the Air Force (12 years active duty and almost 20 years in the Reserves, retiring with the rank of Colonel). For several years in the 1980's, I served as a Family Relations consultant and project officer with the Air Force Family Matters Office (AFFAM in the Pentagon) helping develop policies and programs for family support throughout the Air Force, world-wide.

I completed a PhD in Marriage and Family Therapy (MFT) in 1978 and taught MFT and Psychology since then while leading in the development of three Graduate Programs in MFT. Although retired from full-time teaching, I continue to teach short-term courses in MFT and Psychology, especially Positive Psychology and make several presentations at professional conferences in the U. S. and overseas. Our wonderful God has so abundantly blessed my life and ministry that I can only PRAISE HIM!!

How can Vanguard impact the church and our world today? One of the great needs in the Church and a tremendous opportunity for "home-grown" evangelism is in helping church families build strong, flourishing marriages and families. Far too many marriages and families in the church function (or malfunction) exactly like the marriages and families outside the church. The media is filled with advice for marriages and families. Some of the advice is helpful. While often claiming to be scientific and liberating, much of it is very DESTRUCTIVE NONSENSE!!! Yet, many in our churches are following it.

I would challenge Vanguard to be a leader working through the Church to strengthen marriages and families in every way possible. In all your degree programs (especially in psychology and counseling) emphasize the crucial importance of Biblical marriage and family strengths &3150; how they can be developed and maintained in the church with God's help.

Thanks for inviting me to share part of my story.

Paul Lee

On behalf of President Taylor and Vanguard students, we thank Paul Lee for his generous gift to the Music Department in memory of his wife G. Jeannette (Ferguson) Lee (1933-2006).