Raymond - A Story of Significance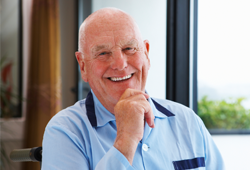 He begins his brew of coffee, does his stretches, has a brief conversation with the cat and retrieves her toys, pours a cup and settles into his morning devotions. He reads trough the Psalms, a habit he has enjoyed for years. Flipping to the old bookmark - the one with a picture of a grandson taken decades earlier - his eyes land on Psalm 71 where he stops to ponder and imagine.

O God, from my youth you have taught me, and I still proclaim your wondrous deeds. So even to old age and gray hairs, O God, do not forsake me, until I proclaim your might to another generation, your power to all those to come. Psalm 71:17-18

This verse was a doorway that opened up the possibility in his mind to be significant in his life now: retired and alone (except for his cat). Even the thought stirs his emotions. Why in fact the Pastor spoke about Significance at the service yesterday! He recalls his pastor saying, "In Christ each one of us is full of meaning and importance." That is definitely true for me now, he wonders.

Raymond began to make a plan. Family was first, so he began identifying their strengths - which were many - before listing how his resources may benefit each person. After this, he considered his church. Finally the world - how can I impact the world for Christ with what God has blessed me with? He thought it was only right to come up with a percentage to leave his children, church and now the world. But how was he going to impact the world? By reflecting on his own life, he decided to also give a percentage to his College. That was a life-changing time for him - where he met his wife - where he received his calling. Yes, this is how I can help change the world for Christ!

That evening lying in bed, his heart was once again full of peace, and his mind at ease. He reminisced over his accomplishments that day and felt a surge of God's Spirit shoot throughout his body. His heart smiling and eyes full of tears, he thought, "Yes, significance. Thank you, my loving Father."