Lifetime of Ministry, Lifetime of Income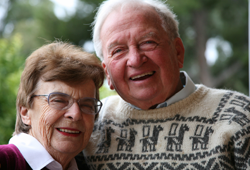 Four years ago, the Middleton's began working with AG Financial Solutions. They wanted to create a customized plan that would provide a steady income stream, while also blessing the ministries God had laid on their heart. Here is their legacy of stewardship.

More than 20 years ago, they had purchased land in Northwest Missouri. "My wife and I were not particularly looking for a land investment," Loyd reflects. "We bought the land when the price of land was down. The Lord just seemed to make it available to us... so there it was, and we bought it."

The Middleton's placed their appreciated asset into a Charitable Remainder Trust (CRT). There were several considerations that led to their decision, including immediate tax advantages and lifetime income from the CRT. But most importantly, they wanted to help further God's kingdom.

"We wanted to be good stewards of the money God had blessed us with. The farm had increased so much in value that we couldn't believe it. At the same time, we wanted to bless the Assemblies of God, because the Assemblies of God had really been good to us."

Loyd is very positive about his experience with AG Financial Solutions. "Everyone I worked with was so professional and knew exactly how to handle everything. They made me feel very comfortable. They knew exactly where they were going and how to do it. They were able to answer every question I had to my total satisfaction." If you would like to know more about the lifetime benefits of a Charitable Remainder Trust, please talk to your AG Financial Solutions Planned Giving consultant.

Vanguard is blessed to have partners like you and AG Financial Solutions. If you have any questions or would like a free Wills Guide sent to you please contact our office at 714-966-5450.